We're broadcast and production experts. Our teams are specialists in making television programmes and in producing online content.
We produce video content and live TV shows
We launch broadcast and online channels
We're headhunters – building teams
We make adverts and branded content
We provide production support at events
We coach corporate clients and journalists in all aspects of media and production
We advise on communications and social media strategy
Our leadership team is made up of former ITV and BBC executives with senior and current hands-on journalism, public relations and digital expertise.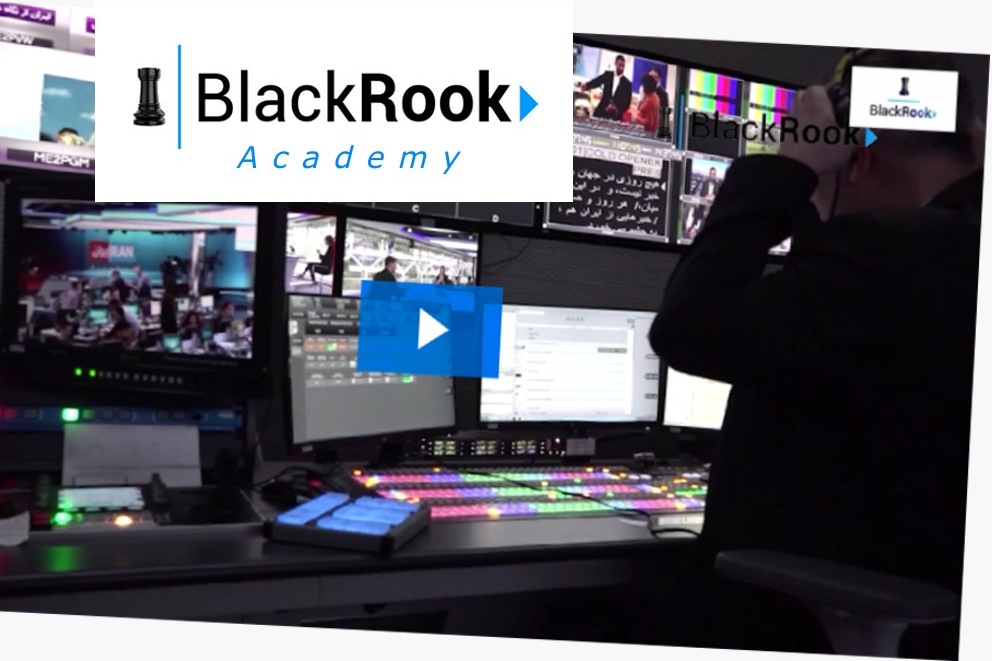 Online video courses
30 hours of coaching modules – designed to deliver knowledge and skills with lasting value.
We make TV shows in the UK and globally. We also make video content for international brands 
We provide strategy consultancy and headhunting services. We also provide production support for major global events 
We train corporate clients and broadcast professionals. Our Training Lead coaches all of the BBC's editorial apprentices in the UK 
Our staff and network of long established partners deliver content, consultancy and coaching across the UK, APAC and EMEA regions. 
We cater for a diverse client base that ranges from the United Nations to global news broadcasters, world-leading car manufacturers to major charities.
BlackRook Media Ltd
BlackRook Academy Ltd
BlackRook Productions Ltd
Enterprise BlackRook (Nigeria) Ltd
BlackRook makes TV shows in the studio and on location – from international news and current affairs to factual entertainment, advertorial features and sponsorship bumpers
Made for Zinc Media in partnership with Sustainable Travel International
zinccommunicate.com
video courtesy of visitsvalbard.com

Made for national broadcast across England and Wales on the Local TV network
video courtesy of myonlineschooling.co.uk
Made for Zinc Media's Maritime UK campaign
zinccommunicate.com
video courtesy of itopf.org

Made for broadcast on the London Live TV channel
3screenslondon.co.uk
video courtesy of vida.co.uk
Made for broadcast on the London Live TV channel
3screenslondon.co.uk
video courtesy of nutriment.co
Made for broadcast on the London Live TV channel
3screenslondon.co.uk
video courtesy of heartier.com


Ian McCulloch
Founding Director Xsequor Partners and former Commercial Director of ITV Plc
I worked with BlackRook on a challenging development project that involved expert insight but also tactful handling of some of the parties involved. Alan Rook delivered superbly on all counts. I look forward to working with him again.

John Hoy
Chief Executive, Blenheim Palace
Gavin was very attentive to our needs in striking the right balance throughout the filming schedule and he did a great job in keeping everyone happy and in ensuring that everyone stayed 'on board.

Tony Martin
Senior Producer, Branded Content, Scripps Networks
I've worked with Alan across two of ITV's flagship shows, This Morning and Daybreak. On each occasion Alan has brought with him a wealth of knowledge and experience which has quickly allowed him to gain the respect of colleagues and staff. This is no easy task on two fast moving shows. On This Morning, Alan's guidance was invaluable and I consider his support as a key factor to my own development as a team leader within a major broadcasting and production company.

Mike Dolan
Programme Editor, ITV
Alan Rook is a leader who inspires others and encourages excellence among his colleagues. He is passionate, driven and generous with his time – always keen to bring out the best in others and encouraging them to succeed. He has helped many journalists improve their skill set and advance their careers.

Rob Beynon
CEO DMA Media
Alan Rook provided world class leadership during the pre-launch project phase of the Arise network, which is a global TV and mutimedia service focusing on parts of the world which do not receive the attentions of traditional media. Alan's media experience and his excellent communications skills allowed him to create and manage a team which laid the foundations for the network's successful launch. He was able to take the original vision of the service, add to it and turn it into a practical media product. He was involved in the selection of the senior management team, whom he trained and guided. He co-ordinated inputs from Arise offices in Africa, Asia and the USA. His contribution was pivotal in the development of the network.

Dare Lawson
Entrepreneur and Content Developer – Nigeria
Alan is an exceptional business consultant with vast knowledge & multimedia experience.
His entrepreneurial skill is an added value that positions him well in proffering quality advise that helps in making timely decisions. Launching our revolutionary RefPredictor on web and mobile, he was able to see through our vision, interrogate our product & advised us choosing the right business model that made an impact in our market. Today, we are proud to tell our story.

Eve Jackson
Culture Editor at France 24
I've been a journalist for the BBC, ITV and now France 24 in Paris. Over my 11 years of experience, I always refer to Alan Rook as the best manager I've ever had and think back to him as a reference to what is good leadership. He always had a clear vision and was decisive and fair. He was also very approachable and respected

Nick Pollard
Former Head of Sky News and Chief Executive of the British Forces Broadcasting Service
I recommend Alan Rook 100%. He did a superb job for us as Head of News at British Forces Broadcasting and helped to raise the quality of all our news output. He's an excellent journalist and a great people person.

Ian Rumsey
Director of Television Production, ITN Productions - and BAFTA winner as Programme Editor of ITV's News at Ten
For expert training, for quality production support, for first class experience right across the media industry, BlackRook is a genuinely big hitter.