Production Editor – Adam Rook
Adam is a writer, producer and programme editor well used to 24-hour rolling international news – having run output teams in the UK and in Nigeria as part of BlackRook's contract work for ARISE News since 2015.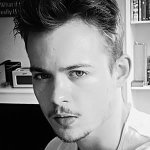 As well as that work with ARISE, for more than three years Adam co-ordinated an international team working in New York, Berlin and London to produce editions of our bi-weekly media review show Iran In The Eyes of the Others for Iran International.
He's also assisted in production of more than 80 hours of TV channel content in our work for the world's biggest banking event – Sibos, working in Sydney, Australia, London and this year Amsterdam, Holland.
He has more than five years' experience as our specialist in crafting company profiles online – from the words and images your clients see when they first view your website, to optimising the background architecture that decides whether or not you appear in their internet searches in the first place.
It's his work that'll make a first impression that really counts and also – vitally – determine just how high up in the search results list your company appears.
Adam is a writer and SEO consultant who has worked with England's biggest regional publisher MNA, the Midlands News Association, for two years.
He's a media professional who also regularly works in roles supporting BlackRook's corporate film-making, documentary research and media coaching projects.
His great love is English Literature – words, very appropriately for the services he offers at BlackRook, are his passion.