Strategy Lead – Mark Southgate
Mark has been an industry leader for more than 20 years, having held a string of senior management posts with the UK's largest commercial broadcaster.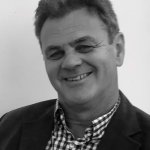 He was Managing Director of ITV Meridian and the network's Regional Director responsible for the south and south east of England, as well as ITV London, ITV West and ITV Westcountry.
Mark is skilled in developing strategy, delivering high-quality, cost-effective editorial services and leading cultural and workflow change. He offers highly developed relationship and stakeholder management skills and considerable experience in all areas of people management, coaching and leadership.
While at ITV, Mark had overall responsibility for the broadcast output, financial management, and staff of three of ITV Plc's regional licences. That amounted to approximately 250 staff and an annual budget of almost £20 million.
Mark was a key member of the ITV News Senior Management Team working on strategies for a sustainable future for regional commercial broadcasting. The role involved working with the broadcasting regulator (OFCOM), government (DCMS) and across all areas of ITV Plc.
Leading Change and Creating Content
Mark has been a Commissioning Editor of some of ITV's most successful regional non-news programmes.
He was a lead player in devising and overseeing ITV's move to create a multi-skilled workforce across its ranks of news journalists and programme makers UK-wide.
Mark has led BlackRook Media broadcast production training in Iraq (for DMA/Rudaw News) and he's been Executive Producer for the company's ARISE News current affairs and global news commissions in London.