Post Production Lead – Kieron Brennan
Kieron is an accomplished editor, camera operator and audio engineer, specialising in fast turn-around high-end work, particularly in the news production and corporate sectors.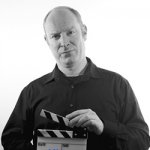 He began his career as a runner in 1989 at the renowned post-production house Telecine/Cell in Soho, and was trained there as a VT operator, and then worked in broadcast transmission at Channel 4, before retraining as a camera operator, working on location and in studio, for clients such as Nickelodeon, Warner Bros and MTV.. In 1997 he was trained in Avid post-production and began a freelance career, editing mainly for the BBC News and ITN flagship shows where he honed his storytelling skills and fast editing headlines to strict deadlines, both on Avid Newscutter systems and Sony two-machine tape decks. He then began building edit suites for clients requiring in-house facilities.
Kieron has built BlackRook Media our own state of the art edit facility and recording studio from scratch, combining his technical skills with his passion for audio and music production and all things synthesizer and electric guitar based. He is an Apple Mac specialist, and is equally at home working with Avid Media Composer and Final Cut Pro software as he is Adobe Premiere.
He also maintains a 4K video camera unit, looking after various clients and ongoing work, both corporate and broadcast, and has been lucky enough to have worked all over the world shooting and editing for a wide range of projects and clients, and he is still just as excited about working in such a dynamic industry as he was when he first began as a runner!Kieron occasionally teaches editing techniques and post-production, and has written a comprehensive training programme that has been used in Adult Learning Centres and colleges across the country, including ACS Cobham International School, Coulsdon College, and A&CL St Helens.