Managing Director – Alan Rook
Alan leads the BlackRook companies and is our principal consultant and producer, having worked at senior executive level for some of Europe's most significant media brands.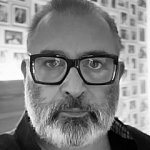 He's a former Editor of the UK's iconic Daytime TV programme This Morning.
He was part of the senior management team that ran the ITV network's breakfast shows GMTV and Lorraine and then launched Daybreak.
In 2010 and 2011 Alan was a member of the executive team that runs all of ITV News – its Nations and Regions.
For five years, he was Head of News of England's biggest television region – ITV Central.
Alan has also run tri-media news operations worldwide for the British Forces Broadcasting Service.
He joined with partners to form the international media services company BlackRook Media in London in the the autumn of 2011 – and has since established the online content provider BlackRook Productions along with Enterprise BlackRook – trading out of the Nigerian capital Abuja.
Alan's various leadership roles across the commercial and charity sectors have seen him take commissioning editor responsibilities across television, radio and online for 15 years. It's work that's seen Alan and his teams win international, national and regional awards for journalism and film-making.
He's a member of the UK's Royal Television Society (rts.org.uk). He's been a national and regional awards judge for the RTS since 2005. He's an awards judge for the Association for International Broadcasting (aib.org.uk) and is himself a winner of the International Federation of Journalists' documentary prize (ifj.org)
Alan serves as an advisory board member of  Wolverhampton University's Screen School.
From 2013 to 2017 he worked as a charity Trustee, joining the Board of The Caxton Foundation as a Director. Funded by the Department of Health the charity helped those suffering hardship as a result of infected National Health Service blood transfusions in the late 1970s and early 1980s
Project Management
Throughout the last decade Alan has overseen a number of significant change management projects, taking strategic responsibility in tandem with maintaining operational and creative ownership.
They're projects with national and international profile where effective internal and external communications messaging has been critical.
He's led the Project Phase of the formation of the new global broadcaster ARISE Networks – working as Commissioning Editor and Project Manager with teams in Europe, North America and Africa.
He led the establishment of a refreshed network news service at GMTV and at Daybreak for ITV News.
He led modernisation of the tri-media news and factual teams internationally at the UK Armed Forces' charity SSVC.
He led newsrooms at ITV Meridian and at ITV Central through radical reorganisation.
Alan led production development of a twice-weekly media review show broadcast in the Farsi language for global broadcaster Iran International. BlackRook operated teams of producers and location video journalists in the UK, North America and across the APAC and EMEA regions.
He has worked as an executive producer, consultant, coach and provider of staff and facilities for organisations including the broadcasters CNBC (Europe), Iran International, ARISE News and Rudaw (Kurdistan), as well as The United Nations' Food and Agriculture Organization (Rome), BMW, Zinc Communicate, DMA Media, 3Screens London  and VNS 24/7 (Johannesburg)
Alan has guest lectured on broadcast news, documentary making, TV presentation and television magazine production at universities in Nottingham, Lincoln, Birmingham, Derby and Leicester.