Assistant Producer – Oliver Rook
Oliver's work with BlackRook covers responsibilities as an Assistant Producer and Research Assistant​. He's involved across a variety of projects, often on location as well as putting in the hours at his desk.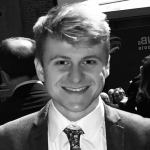 He has specific sales research responsibilities in supporting BlackRook's production agreement with the Local TV group of channels that broadcast on Sky, Freeview and Virgin in cities across England and Wales. Oliver works as part of a team that identifies potential clients and then introduces the products and services we offer. He also contributes daily social media posts for BlackRook on Facebook, Twitter, Instagram and Linkedin.
His Assistant Producer duties involve supporting our teams in video production, in preparing materials for presentations and media coaching and also at events. At the world's biggest ever banking industry conference in 2019, Oliver managed the handling of nearly 80 interview guests appearing on our Sibos TV service at the ExCeL in London.