Nicola Butler – Production Editor
Nicky is a producer and programme editor – having worked for international news channels BBC World and Al Jazeera, and is part of Blackrook's contract work for ARISE News and Iran International.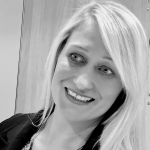 Nicky is currently a producer on Blackrook's contract with DMA Media, responsible for co-ordinating teams in New York, Berlin and London to produce editions of the bi-weekly media review show, Iran In The Eyes of Others for Iran International.
Between 2015 – 2018, she worked with Al Jazeera and BBC as both an output producer and video producer, covering 24-hour rolling news, domestic and international.
She has more than 15 years experience in regional press in the UK, starting her career as a press photographer with Trinity Mirror before helping pioneer online video journalism for Midlands News Association – the United Kingdom's biggest regional publisher, where she held the role of video journalist for seven years, often travelling overseas for assignments. There, she also worked on a busy newsdesk as both online editor and picture editor, overseeing a team of photographers and reporters.
Nicky is also a qualified vinyasa flow and aerial yoga teacher.