Communications Lead – Philip Gomm
Philip Gomm provides communications counsel for Blackrook Media and leads all of our public relations projects.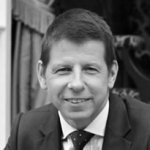 He is currently Head of External Communications at the RAC Foundation. The Foundation is a registered charity and one of the country's leading research and advocacy organisations. It is renowned for the quality of its work and the strength of its arguments.
Testament to the charity's standing and Philip's professionalism comes from a 2011 Ipsos MORI poll of transport journalists in which the RAC Foundation was ranked, out of some 50 different bodies, 1st for media relations and 4th for familiarity.
Prior to joining the Foundation, Philip spent more than a decade working for ITV at both regional and network level, first as a general reporter and then as a lobby correspondent at Westminster.
He has reported from all over the world including Afghanistan, Pakistan, Uganda, the Czech Republic and the United States.
A graduate of the London School of Economics Philip is also the ghostwriter of two books: the bestselling An Ordinary Soldier and its sequel Task Force Helmand.