Technical Lead – Mick Kellie
Mick is BlackRook's Lead Technician, ensuring excellence in video production and in support of all of our media training work.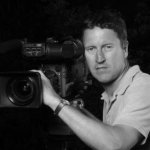 A documentary maker and contract cameraman for ITV, Mick has worked on the road in news and features for the regional broadcaster ITV Meridian, across the south and south east of England, since 1993.
Before that he worked as a sound technician and on cameras for TVS and its flagship Coast to Coast programme.
In more than 25 years in broadcasting Mick has routinely served network productions, as well as regional newsrooms.
He's worked on a variety of content – from Saturday morning Children's programmes to some of the biggest news stories in the south east of England. They include location coverage of The Herald of Free Enterprise cross Channel ferry disaster in 1987 through the building and opening of the Channel Tunnel to the Great Flood that covered so much of southern England in 2000.
His long experience is a key element of what makes BlackRook's offer – right across its services – a proposition of genuine authority and quality.
Providing Craft Quality
Mick's work in news has routinely provided pictures for network ITV programmes, as well as regional productions.
It's work too that's always run in tandem with the high end production values of regular documentary making and polished films for a diverse mix of corporate clients.
He's won awards with the ITV Meridian documentary series Focus and prides himself on combining his television apprenticeship in sound with his long years of camera and lighting work to provide pictures and audio of the very highest standard.